第七章  新艺术时期的玻璃器
   在历史复兴风格、学院派以及过度装饰产品大规模产出的反作用下,于公元19世纪最后十年诞生了新艺术风格。由此也发展出了更多创新技术,包括关键的"虹彩"技术—通过加入锡和氧化镉达到彩虹效果(1878 年的巴黎世界博览会上展出第一件英国制虹彩玻璃)。这些创新工艺带来了对"美"新的诠释,玻璃制造者们广泛使用自然界的有机形式和曲线,从中汲取灵感来创新玻璃器的外观和造型。很多欧洲玻璃制造厂生产出仿古罗马样式的无色玻璃器,有时是绿色,甚至还有以金属光泽染色来模仿自然风化的玻璃, 或是渗透如出土文物那样的铜绿色。当时在美国的路易斯·康福特·蒂芙尼玻璃(Luis Comfort Tiffany, 1848—1933)风靡整个欧洲之际,克劳斯特穆勒的玻璃工厂率先开始生产此类玻璃器。这一时期,法国的埃米尔·加莱和多姆兄弟的玻璃制品,蒂芙尼的餐具、灯具和彩色玻璃窗,他们的新艺术风格对包括波希米亚在内的欧洲玻璃工业发展都产生了决定性的影响。公元20 世纪下半年的第一个十年,优雅的维也纳几何风格影响了整个欧洲,实现这一成就的杰出创造者和设计师来自于维也纳创作室(Wiener Werkst?tte,1903—1932),这也成为欧洲装饰艺术运动的重要起源。
Art Nouveau Glass
    The Art Nouveau emerged during the final decade of the 19th century in reaction to the preceding Historical Revival Styles, as well as to the academism and the mass production of overly decorated goods.
Further technical innovations took root, among them the crucial technique of iridization, a rainbow effect achieved by the introduction of tin and cadmium oxides (the first English iridized glass objects appeared at the World's Fair in Paris in 1878). These innovative methods brought a new aesthetic vocabulary and enabled glassmakers to create surfaces and forms derived from organic shapes in nature.
    Many European glassworks executed colourless glass objects that reflected ancient Roman styles, at times with greenish tints, or even coloured with a metallic lustre imitating the natural weathering of glass and imbuing the items with the patina of archaeological finds. The Klostermühle glassworks introduced this type of ware at a time when the fame of the American glass of Luis Comfort Tiffany (1848–1933) rapidly spread through Europe. Besides the glass outputs of Emile Gallé and the Daum brothers in France, Tiffany's hollowware, lamps and stained-glass window panes had a decisive impact on glassworks in Europe, including Bohemia, in their adoption of the Art Nouveau style.
In the second half of the first decade of the 20th century, Vienna's elegant Geometric Style influenced Europe, as did the creative achievements of the foremost architects and designers associated in the Wiener Werkst?tte (1903–1932) that become an important source of Art Deco in Europe.
VII 新艺术时期的玻璃器Glass of the Art Nouveau Period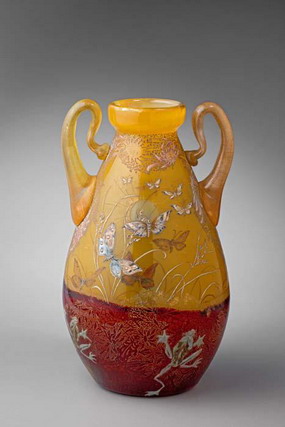 168
花瓶
法国,位于梅桑塔的加莱玻璃工坊出品,埃米尔·加莱(设计),1896年
吹制,热成形,彩绘酸蚀玻璃;高28 cm
编号95?209
1986年购自古董店
Vase
France, Gallé glassworks, Meisenthal; émile Gallé (design), 1896
Blown, hot-shaped, acid-etched and painted glass; H. 28 cm
Inv. no. 95?209
Purchased in 1986 from an antique shop
MH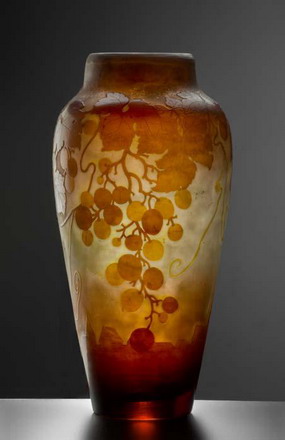 169
花瓶
法国,位于梅桑塔的加莱玻璃工坊出品,1906-1914
吹制,多层酸蚀玻璃;高36 cm
编号 41 424
1955年购自托马什·切尔尼
Vase
France, Gallé glassworks, Meisenthal, 1906–1914
Blown, layered and acid-etched glass; H. 36 cm
Inv. no. 41?424
Purchased in 1955 from Tomá? ?erny
MH
170
花瓶
法国,位于梅桑塔的加莱玻璃工坊出品,埃米尔·加莱(设计),1904年前
吹制,多层酸蚀玻璃;高43 cm
编号 75?210
1971年购自K.格瑞夫
Vase
France, Gallé glassworks, Meisenthal; émile Gallé (design), before 1904
Blown, layered and acid-etched glass; H. 43 cm
Inv. no. 75?210
Purchased in 1971 from K. Greif
MH
171
花盆
法国,位于梅桑塔的加莱玻璃工坊出品,1904年后
吹制,多层酸蚀玻璃;高8 cm,宽29.5 cm
编号 101?944
2002年伊日·昂莱捐赠
Jardinière
France, Gallé glassworks, Meisenthal, after 1904
Blown, layered and acid-etched glass; H. 8 cm, W. 29.5 cm
Inv. no. 101?944
Donated in 2002 by Ji?í Emler
MH
172
花瓶
法国,位于梅桑塔的加莱玻璃工坊出品,约1925年
吹制,多层酸蚀玻璃;高18.5 cm
编号27 321
1942年购自拍卖会
Vase
France, Gallé glassworks, Meisenthal, c. 1925
Blown, layered and acid-etched glass; H. 18.5 cm
Inv. no. 27?321
Purchased at auction in 1942
MH