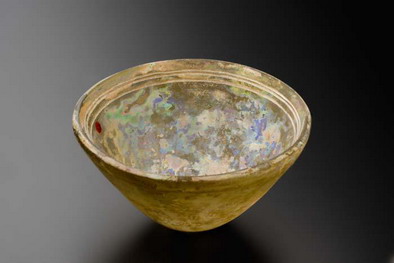 4
碗
东地中海,可能来自埃及亚历山大城,公元前3-2世纪
微黄色模制玻璃,有刻制痕迹;高7 cm,直径13 cm
编号10 444
1906年由布拉格的沃伊切克·兰尼捐赠
此碗制作时先模制再进一步刻制加工。吹制玻璃发明以前许多玻璃器皿都用此法制作。
Bowl
Eastern Mediterranen, perhaps Alexandria, 3rd–2nd century B.C.
Yellowish glass, melted in the mould, cut; H. 7 cm, Diameter 13 cm
Inv. no. 10?444
Donated in 1906 by Vojtěch Lanna, Prague
This bowl made of cast glass formed in a mould shows traces of being further processed by cutting. A great many glass vessels were produced using this technique before the invention of the blowpipe.
HB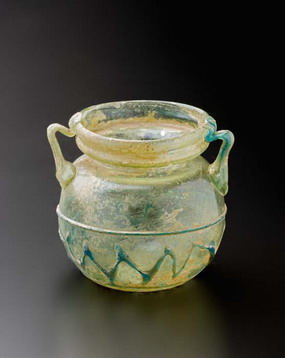 5
双耳小罐
罗马(发现于叙利亚),1-2世纪
淡黄色玻璃,热成形,饰有蓝色花纹;高9 cm
编号6 792
1896年购自美茵河畔法兰克福,L.&L.汉堡公司拍卖会
此罐双耳、薄壁,热成形加工,表面嵌有蓝色丝状花纹,用吹管等工具在火炉口吹制而成。
Small vessel with two handles
Roman (found in Syria), 1st–2nd century
Light yellow glass, hot-shaped and decorated with blue; H. 9 cm
Inv. no. 6?792
Purchased in 1896 at the L. &L. Hamburger Auction, Frankfurt am Main
This two-handled, relatively thin-walled vessel was shaped while hot and decorated with embedded threads of blue glass. It was produced using a blowpipe and other tools at the glory hole of a glass furnace.
HB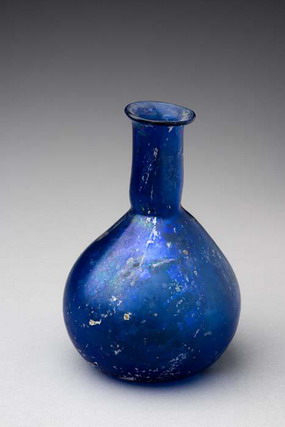 6
瓶
意大利或近东,1-2世纪
蓝色玻璃,吹制;高8 cm
编号9 513
1906年布拉格的沃伊切克·兰尼捐赠
Bottle
Italy or Near East, 1st–2nd century
Blue glass, blown; H. 8 cm
Inv. no. 9?513
Donated in 1906 by Vojtěch Lanna, Prague
HB