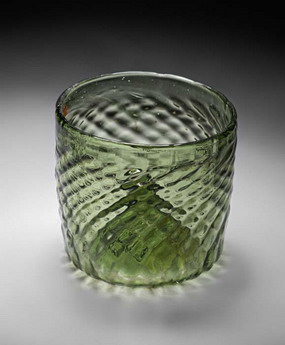 13
酒杯
德国,15世纪下半叶
绿玻璃,热成形;高6 cm
编号 9 820
1906年布拉格的沃伊切克·兰尼捐赠
盅形酒杯曾在欧洲风靡一时、广泛使用,尤其受德国人欢迎。这类酒杯在捷克反而很少见,说明当时玻璃制品的流向是从波希米亚贩卖到德国,而不是相反。一份现存的关于15世纪海关关税制度的记录也提到,德国本地玻璃商申诉从波希米亚进口的玻璃制品带来了竞争。
Beaker
Germany, 2nd half of 15th century
Green glass, hot-shaped; H. 6 cm
Inv. no. 9?820
Donated in 1906 by Vojtěch Lanna, Prague
In their day, Rippenbecher beakers were very popular and widely used especially in Germany. These beakers were quite rare in the Czech lands, indicating that rather than from Germany to Bohemia, glass trade flowed in the opposite direction. There is a record in extant, early 15th-century customs tariffs, in which local dealers in glass complain of competition items being imported from Bohemia.
HB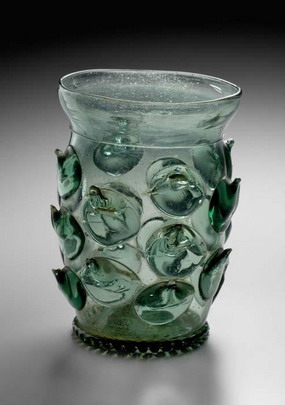 14
酒杯
德国或意大利威尼斯,约1500年
绿玻璃,热成形;高11.5 cm
编号 2 449
1887年购于雷佛拍卖会
考古发现表明,这种德国和波希米亚生产的"卷心菜茎"酒杯(因用粘花装饰杯壁使器皿形似卷心菜茎而得名),从15世纪起一直非常受欢迎。这类酒杯的生产情况威尼斯有记录,最初只为中欧市场大批量生产,后逐渐销遍整个欧洲大陆,具体的产地只有通过玻璃成分分析才能确定。
Beaker
Germany or Venice (Italy), c. 1500
Green glass, hot-shaped; H. 11.5 cm
Inv. no. 2?449
Purchased in 1887 at the Leyffer Auction
Finds from archaeological excavations indicate that both in Germany and Bohemia Krautstrunk, or beakers decorated with prunts, were highly popular from the 15th century onwards. The manufacture of this kind of drinking vessel is also documented in Venice, from where they were exported in large quantities to central Europe and gradually became widespread throughout the continent. The provenance be determined with accuracy only by means of analysis of the glass substance.
HB